'currently reading' : The Half Life of Valery K by Natasha Pulley
hither | sock (100g) do you want to dance?
0 in stock
Regular price

Sale price

$26.00

Unit price

per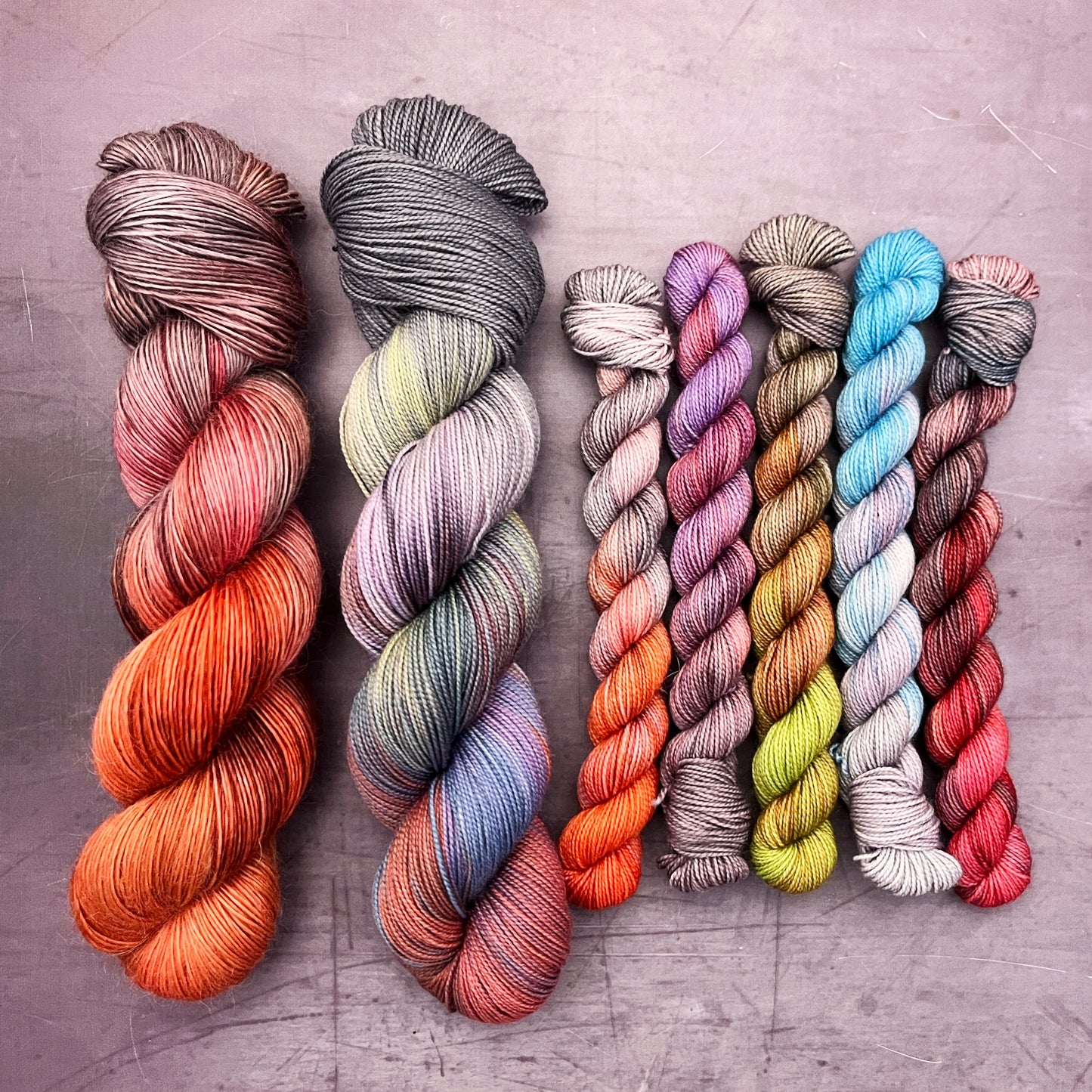 description
yarn specification
The Half Life of Valery K by Natasha Pulley
"In 1963, in a Siberian gulag, former nuclear specialist Valery Kolkhanov has mastered what it takes to survive: the right connections to the guards for access to food and cigarettes, the right pair of warm boots to avoid frostbite, and the right attitude toward the small pleasures of life so he won't go insane. But on one ordinary day, all that changes: Valery's university mentor steps in and sweeps Valery from the frozen prison camp to a mysterious unnamed town that houses a set of nuclear reactors and is surrounded by a forest so damaged it looks like the trees have rusted from within."
My run of great reads continues! From the gorgeous, poetic, sci-fi of last month's 'sea of tranquillity' to something based on scientific fact...
On the face of it, this is a terrifying book; set in Soviet Russia in the 1960's and flashing back to the thirties and fifties, it tells a story, based almost entirely on known/soviet-curated fact, of a Russian 'radioecological' research centre, established following a huge explosion that led to thousands of people being evacuated and suffering from acute radiation sickness. The story told here though, is one of human relationships, unlikely friendships, forbidden love, and an octopus called Albert...
What might on the face of it seem a scarily bleak plot premise, is in fact a book filled with tenderness and colour! At times an uncomfortable read, the characters were so perfectly drawn, and so warm and believable, that I really couldn't put it down. 
I've created two one-off shades and a set of fice mini-skeins inspired by the bleakly beautiful colours that appear throughout this book. From sunsets through rust-tarnished silver birch trees, to a colour-shifting octopus, via imagery of a radiation-poisoned lake...
As always there is a literal handful of each and they won't ever be repeated so if you've read and loved this book, or just can't resist a colourful set of mini-skeins grab your favourite while you can.
hither | sock - Do you want to dance?
miniHither | sock - everyone's made of stars...
furze | singles - The dawn was brilliant


Our 'currently reading' micro-collections are limited edition shades inspired by the book currently on my bedside table.
Each collection comprises just a handful of shades, dyed on a variety of yarn bases and is released as I'm reading a book I'm loving.
Once they're gone, that's it! They are all one-of-a-kind shades that won't reappear, so if you see something you love grab it while you can.
Please note - this limited edition collection does not qualify for our 'sweater quantity' discount.