the winternight trilogy – a mini-skein odyssey
12 x 10g microHoo | sock
Regular price

Sale price

$39.00

Unit price

per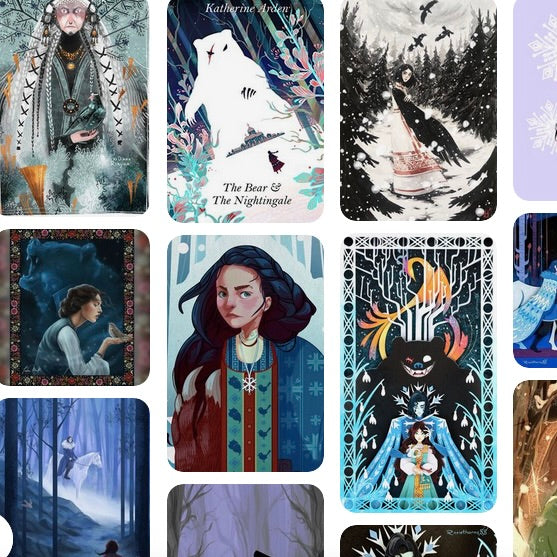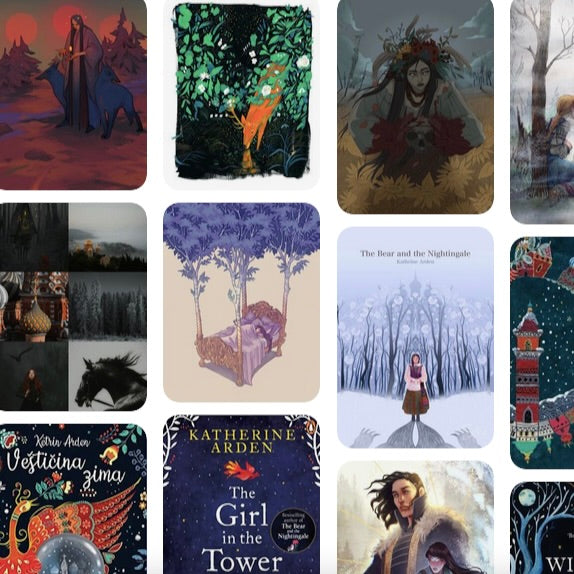 description
yarn specification
~ now closed for pre-orders. Extra sets/skeins will be in the shop January 2nd ~
** Pre-ordered sets/skeins will be dispatched during the first week of November **

** please make sure to add the relevant 'wrap' option if you want your set(s) to arrive as an advent/surprise with extras **

Orders will be dispatched during the first week of November with overseas/advent orders taking priority.
The Winterlight Trilogy – three spellbinding tales inspired by Slavic/Russian folklore and fairy tales. We can't resist embarking on a deep-winter/solstice/advent adventure and what better inspiration than Katherine Arden's beautiful series; The Bear & the Nightingale, The Girl in the Tower, and The Winter of the Witch.
"In a village at the edege of the wilderness of northern Russia, where the winds blow cold and the snow falls many months of the year, an elderly servant tells stories of sorcery, folklore and the Winter King to the children of the family, tales of old magic frowned upon by the church. But for the young, wild Vasya these are far more than just stories. She alone can see the house spirits that guard her home, and sense the growing forces of dark magic in the woods..."

As well as the wealth of inspiration in the the stories themselves, the books are beautiful objects with stunning cover art by Romanian illustrator Aitch (@aitch.ro), and they also have an ardent fanbase creating amazing fan art inspired by Vasya's adventures.
I'll be using a palette inspired by Vasya's magical world to create a plethora of mini-skeins, using all my favourite dye techniques so there will be semi-solid ~core~ shades, and variegated ~fluid~ and ~flash~ shades in both the 12 and 24 skein sets and the 100g full-size skein will be a coordinating variegated ~flash~ shade.
Your mini-skeins can be packaged as an advent (with extras), or more simply if you prefer. All the sets will be dyed on our hoo sock yarn base* and will be available as 10g micro-skeins, or 20g mini-skeins, on fingering/4ply sock yarn or DK sock and there is also be the option of adding a 100g skein (fingering/4ply sock yarn or DK sock).
The possibilities are (almost) endless...

Choose from:
12 x 10g microHoo | sock

12 x 20g miniHoo | sock

12 x 10g microHoo | DK sock
12 x 20g miniHoo | DK sock
24 x 10g microHoo | sock

24 x 20g miniHoo | sock

24 x 10g microHoo | DK sock
24 x 20g miniHoo | DK sock
1 x 100g hoo | sock
1 x 100g hoo | DK sock
Then choose whether to have your choices arrive as simple micro/mini-skein sets that are ready to open and start using, or have them wrapped as numbered advent/surprise sets to be opened daily (with the occasional extra included).
There's something for everyone, for every crafting preference, and hopefully for every budget!
In addition to the pre-ordered sets, I'll also dye extra sets in each of the yarn weights/sizes that will be available in the shop on January 2nd (once the advents are all opened, so no spoilers!) So, if you don't like surprises but you love mini-skein sets and the winternight trilogy, you can choose the set you'd like and be ready to cast on something colourful to see you through the dark late-Winter evenings.
hoo | sock is our classic 4ply 75% superwash merino / 25% nylon base with a medium twist and with 425m to 100g / 85m per 20g mini-skein / 42m per 10g micro-skein on fingering weight 4ply sock yarn and 225m per 100g / 45m per 20g mini-skein / 22m per 10g micro-skein on DK sock.

Although hoo | sock is spun from superwash fibre, we recommend hand washing in cool water to preserve the vibrancy of the dye and, as with all small-batch, hand-dyed yarn that doesn't have dye lots, we also recommend knitting alternate rows from two skeins when working on larger projects to avoid noticeable changes between skeins.
We use professional acid dyes with good light and wash fastness and do our best to exhaust every dye bath and reuse water wherever possible to reduce any further environmental impact. Occasionally a small amount of 'loose' dye may remain in the yarn after rinsing (most likely with deeply saturated shades) and we always recommend hand washing in very cool water and pre-washing your yarn separately if you are intending to mix light and dark shades in a single garment/project.