'currently reading' : Our Missing Hearts by Celeste Ng
miniPightle | fingering/4ply (5 x 20g) shout it from the skies
3 in stock
Regular price

Sale price

$32.00

Unit price

per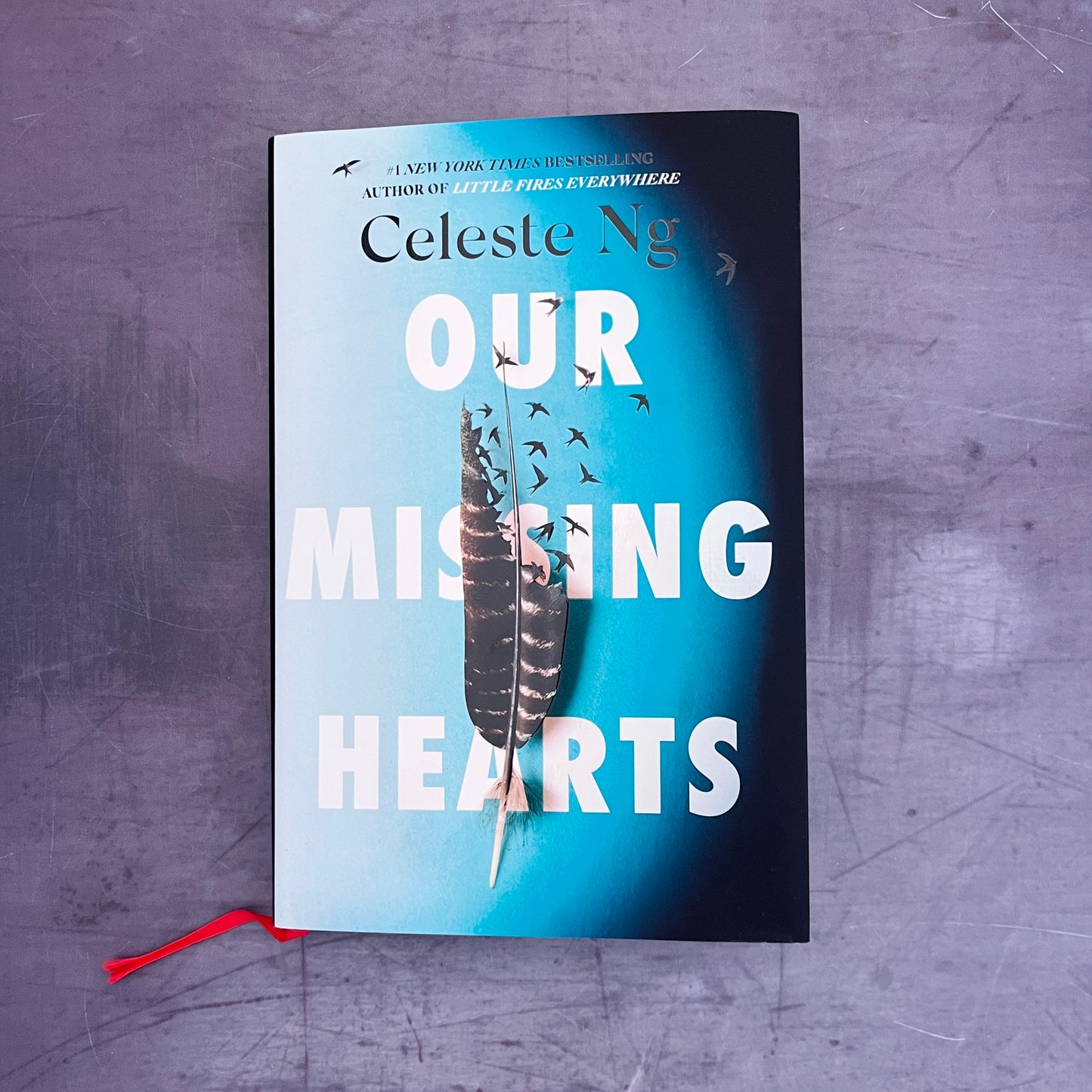 description
yarn specification
Our Missing Hearts by Celeste Ng
"Twelve-year-old Bird Gardner lives a quiet existence with his loving but broken father, a former linguist who now shelves books in a university library. Bird knows to not ask too many questions, stand out too much, or stray too far. For a decade, their lives have been governed by laws written to preserve "American culture" in the wake of years of economic instability and violence. To keep the peace and restore prosperity, the authorities are now allowed to relocate children of dissidents, especially those of Asian origin, and libraries have been forced to remove books seen as unpatriotic—including the work of Bird's mother, Margaret, a Chinese American poet who left the family when he was nine years old."

Celeste Ng writes dystopias. Not post-apocalyptic dystopias, not zombie/virus/sci-fi dystopias. She writes subtle, believable, dystopias set in the world we already inhabit and the premise of this novel is only too believable. Following a global crisis that has shifted economic power away from the US, congress passes the 'Preserving of American Cultures and Traditions (Pact) legislation and as a result, books are banned, protests are cracked down on, and everyday life for millions of families is altered irrevocably. 
I loved Bird and his journey to find his mother with the help of a network of underground librarians - I mean, they just would help, wouldn't they - and I felt inspired to visit the dye pots and come up with a tiny, micro-collection of one-of-a-kind shades that embrace a palette of cool slate blue/grey, warm rosy pink, a hint of soft bronzed gold, and classic neutral taupe grey. Dyed on a small selection of our favourite yarn bases, once it's gone, it's gone...
miniPightle | fingering/4ply (5 x 20g) shout it from the skies
cooms | fingering (100g) I hope
hoo | DK sock (100g) Bird
bray | lace (50g) Once, long ago, there was a boy
Our 'currently reading' micro-collections are limited edition shades inspired by the book currently on my bedside table...
Each collection comprises just a handful of shades, dyed on a variety of yarn bases and is released as I'm reading a book I'm loving.
Once they're gone, that's it! They are all one-of-a-kind shades that won't reappear, so if you see something you love grab it while you can.
Please note - this limited edition collection does not qualify for our 'sweater quantity' discount.